Home • Learn to Play Chess • Improve Your Game • Chess History • Chess for Fun • Chess Blog
Chess Openings - Open Game
Repertoire recommendations
---
Open Game
1.e4 e5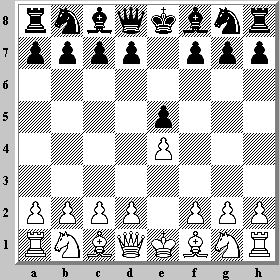 Black meets boldness with boldness. The last move counters White intentions in the center and opens lines for the King's Bishop and the Queen.
White can play d4 because the d-Pawn is protected by the Queen. The exchange of White's d-Pawn and Black's e-Pawn will open the center for the pieces of both sides.
Compare the Closed Game.
Next move?
(Back to initial position.)
---