Index • FIDE 1948-1990 • Pre-FIDE • Highlights • Best games • News/Feedback • Gifts • Site map
World Chess Championship
Web gadgets
--- Our related sites ---
Interested in Chess History? See our list of chess history sites

Our Chess History on the Web email list (no longer active).
--- Awards ---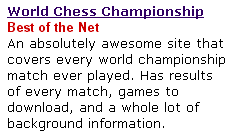 David Dunbar, About Chess Guide 1999-2002
--- Directory magic ---
--- Play chess on the Web ---

--- Web auction and trading ---
The World Chess Championship site has no affiliation with eBay.
--- Email magic ---
This gadget lets you send an email message to a friend. The message informs your correspondent about the existence of our site.


This gadget lets you track when various index pages on our site are changed.
--- Search engines ---
--- Newsgroups ---
--- Free content ---
--- Kasparov vs. the World ---

---
***

Check this page for dead links (www.netmechanic.com):-