Home • Learn to Play Chess • Improve Your Game • Chess History • Chess for Fun • Chess Blog
Chess Openings - Nimzo Indian or Queen's Indian
Repertoire recommendations
---
Nimzo Indian or Queen's Indian?
1.d4 Nf6 2.c4 e6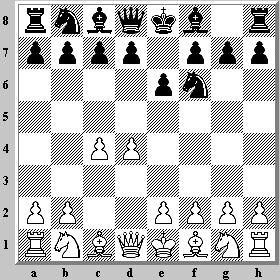 Black's last move announced that the King's Bishop will be developed on the a3-f8 diagonal. White can play 3.Nc3, allowing an immediate pin on b4, or White can play 3.Nf3, forcing Black to find a useful move.
Black will also have the moves c5 and d5 available, transposing into other variations.
Next move?
(Back to initial position.)
---